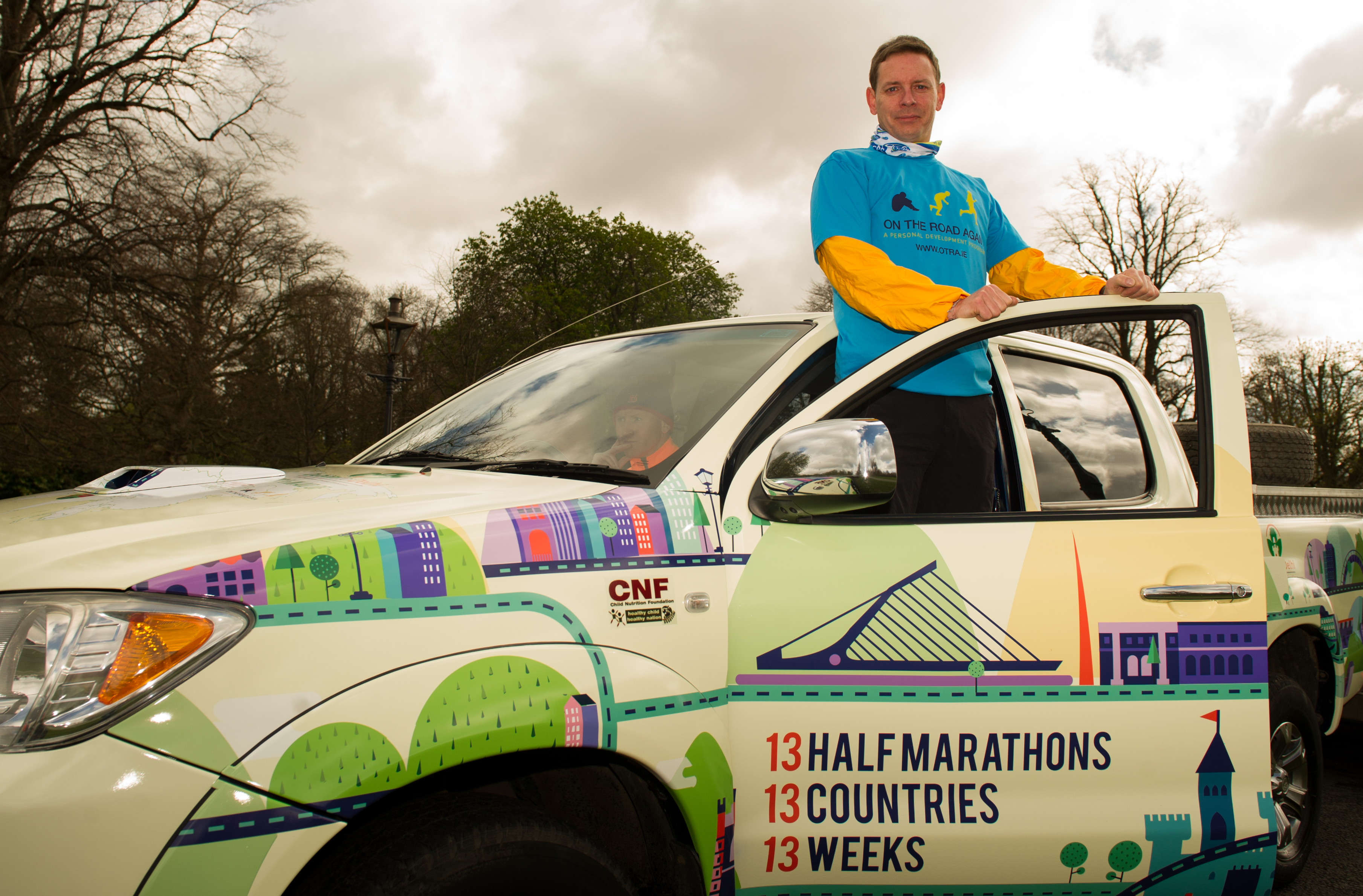 Dublin2Delhi is a unique challenge undertaken by Fergal O'Flaherty, to raise awareness and funds for two non-profits he believes in – On The Road Again (OTRA) in Ireland and Child Nutrition Foundation (CNF) in India. He is running 13 half marathons in 13 weeks, across 13 countries.
Read more about the amazing man and his quest below.
1 Jeep – 1 Ordinary Guy – 1 Extraordinary experience.
11am August 30th 2015 marks the start time of an amazing challenge been undertaken by solo runner Fergal O'Flaherty with a jeep called iVan. The event will kick off in Dublin and complete in Delhi. Fergal will run 13 half marathons in 13 weeks across 13 countries.
This journey will start in Dublin and go across France, Czech Republic, Poland, Russia and all the countries in between including Kyrgzstan and China, culminating in New Delhi, India.
This event is the brainchild of Fergal and it was a dream of his late father's to undertake a journey like this with Fergal. Sadly, that is not possible and the event is now being undertaken as solo one by Fergal in memory of his late father Matt O'Flaherty. The concept is to continue the good work his dad did and continue to help those who need it. The event will focus on supporting those who assist well -being; personal development, well-being of children and mental well-being.
This adventure is supporting 2 fabulous registered non-profits; On the Road Again in Ireland (OTRA) and Child Nutrition Foundation (CNF) in India. One hundred percent of monies raised will go directly to these two organizations.
On the Road Again (OTRA) is an Irish non-profit spreading nationwide which designs Personal Development Programmes to improve physical well-being and mental health and, in turn, restore and instill positive self-esteem and empower members to take control of their own lives for the better.
Child Nutrition Foundation (CNF) is based in India. Every day, 6,000 children die in India due to malnutrition related causes. This is appalling in the 21st century. CNF is on a mission to reduce child malnutrition in vulnerable communities in India.
These two non-profits and the event Dublin2Delhi, represent an opportunity to do some good.The aim is to raise €100,000 for the non-profits. All donations (100%) go direct to OTRA and CNF. The cost of getting to India is privately funded.
Help us to do some good, donate online at www.dublin2delhi.com tweet us @dublin2delhi or like our page www.facebook.com/dublin2delhi and share this event and information with everyone, help us all to do some good. Stay tuned for some surprises along the way!!
Media contacts:
Ireland – Mags Boland Murphy – Bofin Marketing. T: 086 3115789. Email: mags@bofinmarketing.ie India -Tripti Gusain. Email: gusaint@ruderfinnasia.com